It was heartbreaking to hear the fire that destroyed the NOC office and much of the 900 block of West Broadway was arson--but I'm so glad to see NOC turning this grim situation into an opportunity. 
NOC's vision to buy back the land and rebuild a new home from the ground up is impressively bold, and there's no one better suited to do it than NOC.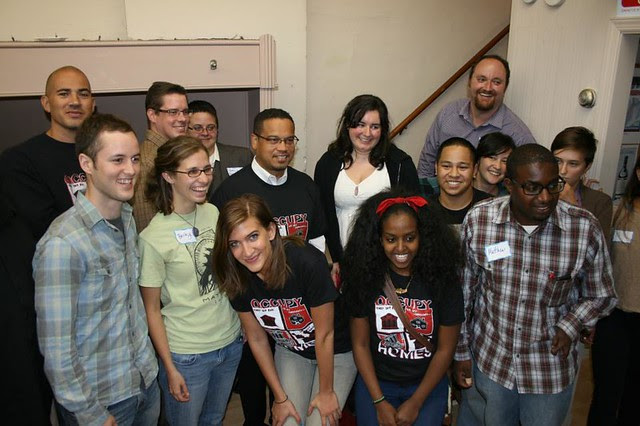 With NOC members the first day at the Broadway office.
I've been a proud supporter of NOC since their beginning. Their commitment to building power in communities of color is the real deal.
On the day NOC's office burned down, they led a march of over a thousand people on McDonald's for a $15 minimum wage and better working conditions. That same day, they launched a fundraiser for their neighbors who lost all their possessions. They raised—and distributed—$23,000 for displaced residents. And they haven't slowed down since.
Since the fire three months ago, NOC has led the way on repealing lurking and spitting laws in Minneapolis and is now playing a leading role in the campaign to pass laws for earned sick time, fair scheduling, and a $15 minimum wage for all workers in Minneapolis—despite not having a permanent home.
To buy the land where their building burned down, they need to raise $25,000. $25,000 to invest in the future of grassroots organizing and the future of my neighborhood in north Minneapolis.
If you prefer to donate by check, you can mail to:
Neighborhoods Organizing for Change
P.O. Box 583118
Minneapolis, MN 55458
NOC's grassroots work at the local level is exactly what we need to make lasting social change throughout this country. Let's invest in the future of grassroots organizing in Minneapolis and help them build a permanent home.
Thanks in advance for your support.
Do you like this post?